Recently voted the best service company in the UK, Rackspace manage their customers hosting infrastructure for them - freeing up their time and resources for activities that are more beneficial to their own business.
Rackspace guarantee 100% network uptime
to give customers peace of mind that their web site will always be live and generating revenue. With
24/7 LIVE technical support
, there is always an experienced tech at Rackspace to look after their servers, monitoring them and fixing problems, sometimes even before customers know they are there.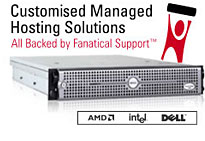 What's more our
award winning customer service philosophy, Fanatical Support™
promises that we don't just meet but
exceed our customers' expectations
, and go that extra mile in looking after our customers' hosting solutions. No wonder Rackspace is the industry leader in customer satisfaction rates and their likelihood to recommend. Whilst other hosting providers are struggling to survive Rackspace is currently the fastest growing managed hosting company in the UK.