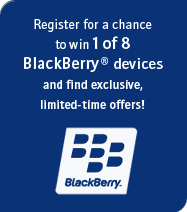 Dear Reader,

Getting and staying competitive is about being able to do more of what you do best, more often and in more places – we wouldn't be writing to you if you didn't already know that. But what you may not know is that BlackBerry® is a cost-effective way for your business to do just that.
Today, more companies are turning to a BlackBerry Solution and seeing it impact their bottom-line swiftly. And not just big businesses. As the person responsible for business growth you may be pleasantly surprised to find out how easy it is for your team to:
Go mobile fast
Do more in a limited workday
Respond faster to customers and opportunities
And that's just for starters.
Check out the case studies at www.essentialblackberry.com.au and see what other companies are saying. While there, you can enter for a chance to win 1 of 8 BlackBerry devices and find exclusive offers—which could mean even more good news for you and your business.